Ecommerce marketplaces are offering discounts as high as those at peak Diwali season across categories ranging from grocery to smartphones and electronics, ahead of the government's revised foreign direct investment (FDI) policy taking effect on February 1. Some discounts are 3-5% higher than those at Diwali and could be aimed at clearing stock ahead of the move, experts said.
Online grocery delivery service Grofers chief executive Albinder Dhindsa said its January 19-27 Orange Bag Days promotion saw a record `60 crore of sales on day 1 and is targeting `200 crore for the week. He said the sale had been planned "before the new policy changes were announced last month."
Senior executives of onlinefocused smartphone and electronics brands said there is a rush to clear inventory through higher discounts since the marketplaces have not been able to provide much guidance in case the government does not agree to extend the February 1deadline.
"Discounts were never so attractive during Republic Day sales. There is a possibility that brands which have no offline presence could be in a rush to clear inventory," Amazonexclusive electronics brand BPL India's chief operating officer Manmohan Ganesh said.
"Republic Day and Independence Day sales are two of the biggest events for grocery buying in the year," Dhindsa said. "Not only is the Grand Orange Bag Days sale the largest online grocery sale by far, larger than all other online players combined, but is also one of the largest sales in the segment."
Amazon, which is running the Great Indian Sale on January 20-23 and has over 400,000 sellers on its marketplace, said "product selections and prices" are decided by the vendors. "For the past several years, we have worked with our sellers to plan events where they offer great products and deals to customers," an Amazon India spokesperson said. "The sale in January is one such event."
Both Amazon and rival Walmart-owned Flipkart are lobbying with the government to extend the February 1 deadline, but it's not clear if that will happen.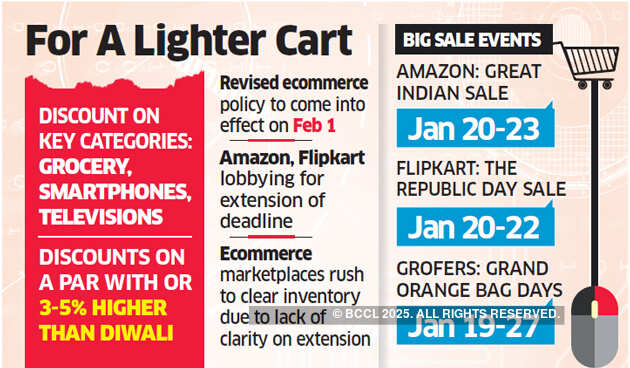 A senior executive with an online-focused smartphone brand said the marketplaces have informed them that they have sought an extension of the deadline and are thinking of alternative ways to adhere to the policy. "However, since there is not much clarity yet, we are clearing inventory," he said.
Smartphones brands on discount include Honor, RealMe, Vivo, Xiaomi and Asus. For Honor, the discount is in the range of Rs 3,100-9,800, while Vivo has dropped prices by up to Rs 5,000. On some models, prices are the lowest since their launch. A senior executive with a leading Chinese TV maker said online sellers are shifting from traffic generation to higher discounts in a rush to clear out inventory.
TV makers said net consumer prices have also come down since the government has reduced the goods and services tax (GST) on the 32-inch segment, panel prices have declined and there's been an improvement in the rupee-dollar rate since Diwali. "The external factors too have become conducive to offer better prices," said Avneet Singh Marwah, CEO at Super Plastronics, the licensee for Thomson and Kodak TV brands.
EXTRA DISCOUNT FOR E-PAYMENTS
Flipkart will also allow sellers on its platform to give an extra 5% discount to customers who choose to pay through netbanking, debit and credit card options while making their purchase, in a bid to discourage cash-on-delivery orders. The scheme will be applicable to several product categories such as fashion, footwear and fashion accessories, irrespective of the order value. This will help in reducing the cashflow burden for small vendors.
"Cash-on-delivery orders are expensive for sellers," said a spokesperson for All India Online Vendors' Association, which is a group of 3,500 sellers that sell on different online platforms. "There are additional expenses on account of undelivered or cancelled orders which add to the financial burden. By finally introducing an option to pass on savings as an incentive only to prepaid customers, we can expect higher prepaid orders. This will increase sellers' business on Flipkart."
The provisions announced on December 26 requires sweeping changes in the business model of ecommerce marketplaces. They were introduced after complaints by local brick-and-mortar retailers alleging that the marketplaces were violating policy by influencing the prices of products, engaging in deep discounting and indirectly employing an inventory-based model.
The development was reported by ETRetail.com