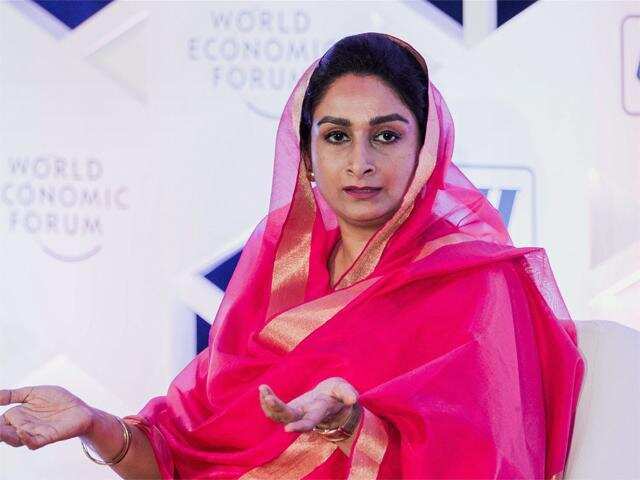 NEW DELHI: The foreign direct investment- FDI in food processing sector has already touched the USD 1-billion mark so far this year, Food Processing Minister Harsimrat Kaur Badal said Tuesday.
"When we took over the government in 2014, FDI in the food processing sector used to be USD 500 million every year. This year, we touched USD 1-billion mark. This is a tip of the iceberg, we have to go a long way," Badal said addressing the CII event on post harvest and logistics.
According to official data, FDI in food processing sector was USD 904.9 million in the 2017-18 fiscal, while it stood at USD 727.22 million, USD 505.88 million and USD 515.86 million in 2016-17, 2015-16 and 2014-15, respectively.
The FDI in multi-brand retail was allowed keeping in mind the need to boost food processing level and provide an alternative market to farmers to sell their produce, she said.
The focus was to see retailers directly procure farm produce from farmers. "I am happy to see companies like Metro and Walmart are keen to tie up directly with farmers."
About USD 14 billion that was committed during the World Food India 2017 for next few years, the minister said, "I am happy to share that 70 per cent of the projects have already started the grounding."
This will help grow the processing levels and reduce food wastage which is estimated to be Rs 1 lakh crore per year, she said.
Talking about domestic investment, National Rainfed Area Authority (NREA) CEO Ashok Dalwai said, "We have seen that the captive investment in agriculture, which is pre-requisite for any kind of accelerated growth, has not really happened through the corporate sector."
While the private investments have largely been through farmers themselves, the corporate sector which should have played a greater role has not really done so, he said.
Dalwai said the corporate sector cannot be blamed as the government — which should have been the trigger in bringing the investment in the private sector — has not tailored the policy that suits its requirement.
Also, there has been captive investment in industry and services sector since liberalisation in 1991.
"Agriculture, which is the primary economic activity and in a way it is the economic sector which generates the demand for services and industry sectors, was not subjected to the liberalisation. But in the last four years, the emphasise has been on bringing in reforms in the sector and make it a private sector enterprise," Dalwai said.
The government has been focusing on post harvest management and logistics, he added.
The development was designed by ET Retail.com